See 'Specials' menu for more than 22% OFF all MEGA CD SALE products!
Print @templates/ijam/main_page.php
| | |
| --- | --- |
| | templates/content/product_info.tpl.phptemplates/content/product_info.tpl.php |
Spring (from 'Four Seasons) - SongTorch Multimedia File [st132103]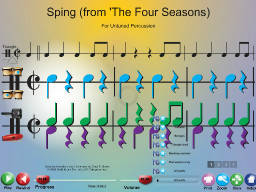 Spring - SongTorch Multimedia File
This is a multimedia file that will loaded into a free program called 'SongTorch'.
The song will display the notation and lyrics as the song plays. You can even zoom in and have it scroll acros
Age Level : 5 to 12
USD$24.95
Sample
Song Title
Made Famous By
Baroque Era

Spring (from 'Four Seasons')

'The Four Seasons' by Vivaldi
Jam 2014 Song Book
The Jam Song Book is jam-packed with 38 songs including pop songs; classic hits; activities in the children?s language; a recorder section; upper, middle and early childhood sections; harmony tracks; outcomes; games; dances; website support and much more in full colour. See the Triple CD Pack for the song titles.
Jam 2014 Triple CD Pack
Jam Triple CD packs include the instrumental, vocal versions and often harmony track for all the songs in the Jam book. Also includes other bonus material.
Jam 2014 Worksheet Copy Book
Available separately for a limited time. A physical copy of all worksheets from the interactive programs. All photocopiable!
Jam 2014 Teacher's Multimedia
The Jam 2014 Multimedia combines interactive content with the amazing SongTorch song following system for PC, MAC, iPad, data projector and interactive whiteboard. Climbing Up the Rainbow - SongTorch Multimedia File
---
Related products and specials